Refine Your Results By:
NEW YORK STORIES
Four New Yorkers step out with the latest Theory accessories.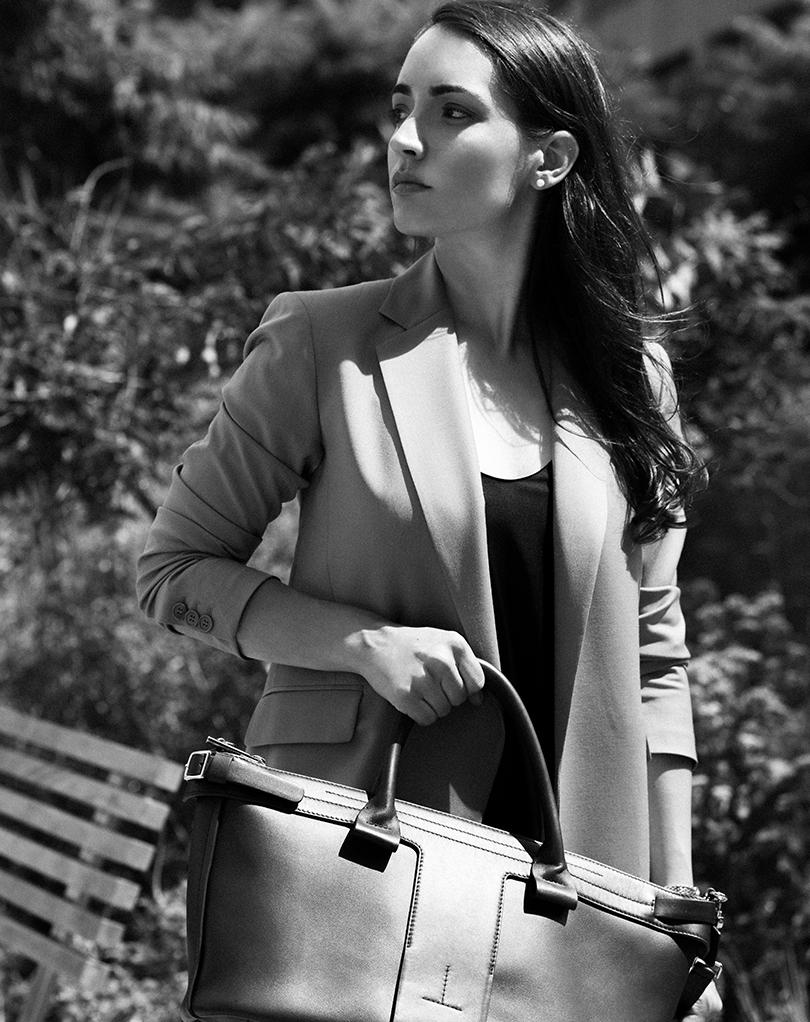 Marcela Sapone, founder of Hello Alfred, wears an unconstructed jacket in light wool, a soft stretch scoop bodysuit and the new T-Bar bag in smooth calf, all by Theory. Photographed at the Highline Park, New York City.
Marcela Sapone likes the subway. It's quick and inexpensive and it "helps keep it real." Though the hustle and bustle of its many millions of passengers could be viewed as a burden, she sees it as a "cross-section of all different people moving together, helping us to step out of our bubbles." It's a charmed perspective on the realities of urban life that have helped inform the creation of Alfred—a customizable service that gives denizens a hand with everything from grocery shopping to housekeeping to even tailoring and repairs. It was conceived as a way to save time which she sees as a "non-renewable asset and that we all have less and less of." Ultimately, Alfred is there to help enable the kind of indulgences and experiences that only a New Yorker wouldn't take for granted.
"I love activities that help get you out of your head and force you to be present."
THE T-BAR / Smooth Calf Leather / Claret / $850
For her, it means more time for yoga and SoulCycle. "I love activities that help get you out of your head and force you to be present," she says. Or it's more time spent with with a good meal, shared with good friends. "I love to cook for others—there is really nothing better than a dinner party with a small group of people you love." Sometimes, it's even the simplest, most mundane pleasures that are the most indulgent and, by far, the most satisfying. Her one guilty pleasure? "Waking up late on the weekends and staying in to read." She meets these humble expectations with her own sense of style and ease. Defined in just three words? "Simple, strong and elegant." 

Text by Jeremy Lewis